We Are Open and Looking Forward To Helping You! We've taken precautions to ensure your health and safety. See Our Office Hours
You'll Never Say "What?" Again!
You'll Never Say "What?" Again!
How You Can Enjoy Better Hearing
West Valley Hearing Center: Your Hearing Aid Experts in Woodland Hills, CA
When hearing declines, something that was once so easy–such as sitting in a noisy restaurant and listening to a friend tell a funny story–can suddenly seem so difficult.
You can try to fill in the gaps by picking up on the gestures and facial expressions of the person talking. When everyone else laughs, you know to laugh too, even though you haven't heard enough to understand the punchline. Nodding on cue, lip reading, and sitting in the front row are other ways you might try to compensate. But hearing loss can be exhausting! After a while, you might find yourself deciding to just stay home because it's easier.
At West Valley Hearing Center, we understand your hearing struggles and the importance of hearing well to stay connected to others and your surroundings. Better hearing equates to a richer, more fulfilling life. We want to help you hear all of life's sound effects–from crickets softly chirping and the joyfulness of your grandchildren laughing to really impactful sounds, such as the blaring of a car horn or the pitched whir of a smoke alarm when you're sleeping.
Life is noisy. It's important to stay tuned! Make an appointment at West Valley Hearing Center for a hearing test. Through our hearing services, we can help you regain control of your life. We evaluate your hearing and provide personal solutions to improving your hearing and preventing further damage through highly sophisticated hearing technology. We can also offer effective strategies to help you easily communicate with friends, family and coworkers. Call or text us today!
Why Wait? You don't have to live with hearing loss
Why Wait? You don't have to live with hearing loss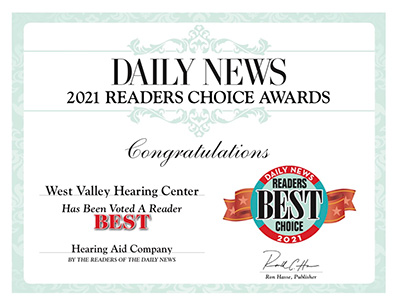 Best Hearing Aid Company 2021 Readers Choice Award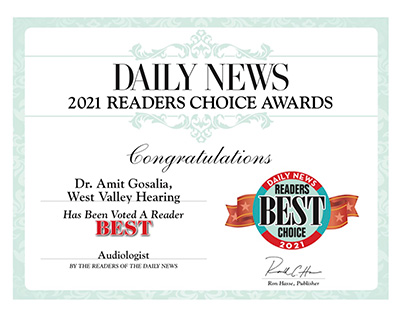 Best Audiologist 2021 Readers Choice Award
Ask about our Veteran, Active Military and First Responder discounts!
Discover today what we've accomplished for so many others in Woodland Hills, CA who were experiencing hearing loss. Tired of struggling with hearing loss?
If you've noticed that you can't hear as well as you used to, you're not alone: Hearing loss is the third most common physical health problem after arthritis and heart disease, affecting 48 million Americans. The good news? In almost all cases, treatment is available. Hearing technology is moving fast. We can help you — or someone you know with hearing loss — take advantage of the latest advancements.
Ready to tune in?
Don't miss out on everything from the punch lines of jokes and family conversations to movies and TV audio. At West Valley Hearing Center, our audiologists' mission is to help you tune in again with the right hearing aid.
We treat our patients like our own family because we recognize that hearing well is important in all of your relationships!
Take the First Step Today

When you call or text us, we'll do our best to answer your questions about hearing loss and hearing aids.


If hearing aids can help, your hearing specialist will explain the options so you can choose the right hearing aid for your unique hearing profile, lifestyle, preferences and budget.